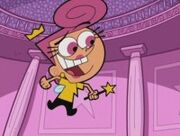 Wanda Venus Fairywinkle-Cosma is a main character in the series, who is one of Timmy's fairy godparents, alongside her husband Cosmo, and her son Poof. Unlike her husband, Wanda tends to be more responsible and is reluctant to grant dumb wishes, but is usually obliged to grant them anyway or Cosmo grants them instead. Wanda is voiced by Susanne Blakeslee in the cartoon, who also voiced the CGI version of Wanda in the live action "Fairly Odd Movie". A humanized version of Wanda also appeared in the live movie, played in live action by Cheryl Hines.
Ad blocker interference detected!
Wikia is a free-to-use site that makes money from advertising. We have a modified experience for viewers using ad blockers

Wikia is not accessible if you've made further modifications. Remove the custom ad blocker rule(s) and the page will load as expected.