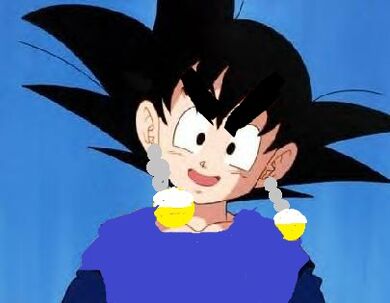 Vegeten is the fusion between Goten and Vegeta with the potara earrings. They were inside of Majin Buu and Piccolo restored the Potara Earrings, but Goku wanted to fight Majin Buu by himself so Goten and Vegeta fused. They became Vegeten and used an attack to destroy Buu's heart. Then they got out and when Majin Buu turned into Kid Buu they defused. This was an alternate ending.
Languages
Edit
Vegeten wa potara iyaringu to Satoshi ten to bejīta to no yūgōdesu. Karera wa, majinbū no naka ni ita to pikkoro wa Potara iyaringu o fukugen shimasuga, Gokū wa sō Satoshi ten to bejīta ga yūgō shita jishin ga majinbū to tatakau koto o nozonde ita. Karera wa Vegeten to bū no kokoro o hakai suru tame ni kōgeki o tsukawa reru yō ni natta. Sonogo, karera wa dete, majinbū ga kiddobuu ni natta toki, karera wa defused. Kore wa, daitai ketsumatsudatta.
Vegeten est la fusion entre Goten et Vegeta avec les boucles d'oreilles Potara. Ils étaient à l'intérieur de Majin Buu et Piccolo restauré les oreilles Potara, mais Goku voulait se battre Majin Buu par lui-même si Goten et Vegeta fusionné. Ils sont devenus Vegeten et utilisé pour détruire une attaque cardiaque Buu. Puis ils sont sortis et quand Majin Buu transformé en Kid Buu ils désamorcée. Ce fut une fin alternative.
Vegeten ist die Fusion zwischen Goten und Vegeta mit den potara Ohrringe. Sie waren im Inneren des Majin Buu und Piccolo wieder die Potara Ohrringeaber Goku wollte Majin Buu selbst zu kämpfen, so Goten und Vegeta fusioniert. Sie wurden Vegeten und verwendet einen Angriff auf Buu Herz zu zerstören. Dann stiegen sie aus und wenn Majin Buu in Kid Buu wandten sie entschärft. Dies war ein alternatives Ende.