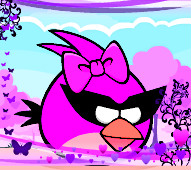 Susan (Angry Bird) is a fanmade angry bird.
Personality
Edit
Susan is a very sweet angry bird. She has rarely gotten angry, even her moves are sweet, but can still kick some pig butt. She has a crush on the Red Angry Bird and he has a crush on her.
Abilities
Edit
Main Move: Sweetheart-This move forces the pigs to come to Susan's side and destroy the other pigs.
Super Move: Susan's Kiss-Stuns the pigs and when Susan lands, all of the stunned pigs are destroyed.
Ad blocker interference detected!
Wikia is a free-to-use site that makes money from advertising. We have a modified experience for viewers using ad blockers

Wikia is not accessible if you've made further modifications. Remove the custom ad blocker rule(s) and the page will load as expected.