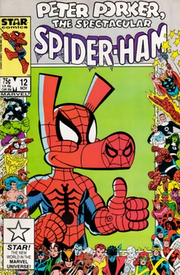 Peter Porker was born a spider (simply named Peter). He resided in the basement lab of May Porker, a slightly goofy animal scientist who had created "the world's first atomic powered hairdryer," hoping that "the introduction of nuclear fusion into America's beauty salons" would "revolutionize the hair care industry". After dousing her head with water and activating the dryer, May Porker accidentally irradiated herself, and in a fit of delusion, bit Peter, who then found himself transformed into an anthropomorphic swine much like May Porker herself. Running from the Porker homestead disoriented, Peter soon came to realize that he still retained a spider's abilities.
Ad blocker interference detected!
Wikia is a free-to-use site that makes money from advertising. We have a modified experience for viewers using ad blockers

Wikia is not accessible if you've made further modifications. Remove the custom ad blocker rule(s) and the page will load as expected.