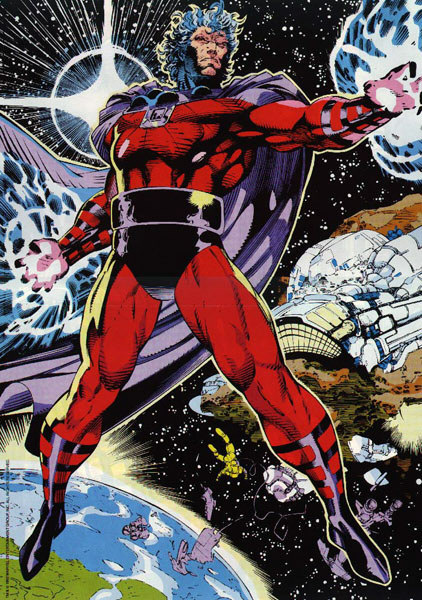 "I give all credit of this article to the Marvel Wiki"
The man now known as "Magneto" was born Max Eisenhardt. While attending school in Nurnberg, Germany, Max was attracted to a young gypsy or Roma girl, named Magda. Max would do things, such as create necklaces and excel in sporting events, to gain her attention. While returning from school one day, Max found his uncle, Erich Eisenhardt, beaten and wearing a sign saying that he had shamed a German woman. At a school event, Max won a javelin competition, to impress Magda, and the following day, was accused of cheating. Max was told to either give-up his medal or recreate the throw with a "regulation" javelin. After winning the competition a second time, Max was again accused of cheating, expelled and beaten by the other children. After traveling with his father to see a Major that he saved in World War I, his father was left waiting for Major Scharf and beaten by a troupe of Nazis for "making such a trouble" in Scharf's office and resisting arrest. After hours of beating, Major Scharf threw Jakob Eisenhardt out of his office, stating that they would have killed him and that they were even. As things worsened in Germany, Max's father taught his family "fight back, and they'll stomp in your head", but later fled to Poland. After the Nazi invaded Poland in September of 1941, Max and his family fled to Warsaw, Poland and were placed in a concentration camp. His time at the camp molded Max into a smuggler of food and supplies. While attempting to escape, Max and his family were captured and executed, but the bullets missed Max.
Ad blocker interference detected!
Wikia is a free-to-use site that makes money from advertising. We have a modified experience for viewers using ad blockers

Wikia is not accessible if you've made further modifications. Remove the custom ad blocker rule(s) and the page will load as expected.