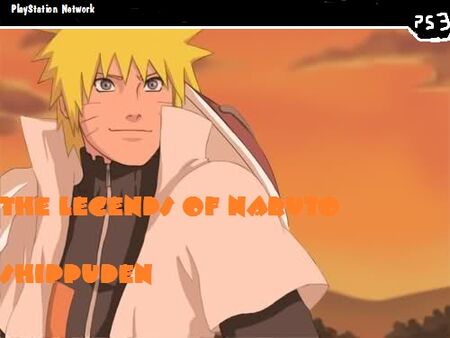 This is a video game created by
Ultimate avatar
. It is basically taking the player through the entire Shippuden series. There is something special about this game, it's Story Mode will never stop until Shippuden finishes. It has many characters, incluiding Tobi (Masked Man) and Kushina (Kid, Teen, Adult)
Characters
Edit
Playable Characters
Edit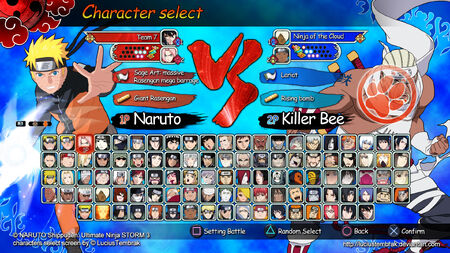 Naruto (Normal, Cloak, Four Tails, Sage Mode, Six Tails Nine Tails Chakra Mode, Kyuubi, Future Hokage)
Sakura
Sai
Sasuke (Cursed Seal, Kirin, Taka)
Sai
Yamato
Kakashi
Chiyo
Gaara
Temari
Kankuro
Might Guy
Tenten
Rock Lee
Neji (Byakugan)
Sora
Choji
Ino
Shikamaru
Asuma
Hinata (Byakugan)
Kiba
Shino
Jiraiya (Sage Mode)
Tsunade
Orochimaru (White Snake Mode)
Minato (Yellow Flash Mode)
Kushina (Cloak, Kyuubi Mode)
Kabuto (Normal, Snake Cape)
Tobi (Normal, Damage Mask, Obito)
Sasori (Human Puppet)
Deidera
Itachi Uchiha (Susanno'o)
Kisame (Shark Mode)
Hidan (Jashin Ritual)
Kakuzu (Earth Grudge)
Pain (Six Paths)
Konan
Suigetsu
Karin
Jugo
Killer Bee (Eight Tails Full)
Raikage: A
Mizukage: Mei
Danzo
Anko
First Hokage: Hashirama
Second Hokage :Tobirama
Madara Uchiha
Obito (Kid, Adult)
Rin
Easter Eggs
Edit
Naruske (Fusion Between Naruto and Sasuke)
Standby Characters
Edit
When you finish the Story Mode, the Standby characters will become playable. You will also earn a trophy when they become playable.
Kidomaru
Kurenai
Playable Stages
Edit
Leaf Village (Destyroyed, Ruined)\
Training Field (Day, Evening, Night)
Forest of Quiet Movement
Forest of Death
Akatsuki Hideout
Uchiha Hideout
Five Kage Summit
Orochimaru's Hideout
Hidden Sand Village
Hidden Sand Desert
Madara's Hideout
Release Date
Edit
April 16th, 2012 in America
June 15, 2012 in Australlia
July 4th, 2012 in Japan
August 1st, 2012 in Europe
Playable Systems
Edit
PS3
XBOX
XBOX 360
XBOX KINECT
Online Battling
Edit
PSN
XBOX LIVE
Boss Battles
Edit
Boss Battle 1: Naruto and Sakura vs Kakashi (Steal The Bells!)
Boss Battle 2: Gaara vs Deidara (Protect the Village!)
Boss Battle 3: Sakura and Chiyo vs Sasori (Sakura's Good Fight!)
Boss Battle 3.5: Naruto vs Deidara (Avenge Gaara)
Boss Battle 4: Naruto, Sakura, and Sai vs Sasuke (Team 7 Reunites)
Boss Battle 5: Naruto vs Sora (Defeat the Four Tailed Clone)
Boss Battle 6: Asuma vs Hidan (Kill the Immortal Akatsuki)
Boss Battle 7: Kakashi, Choji, Ino, and Shikamaru vs Kakuzu and Hidan (New Team Asuma's First Mission)
Boss Battle 8: Naruto vs Kakuzu (Avenge Asuma)
Boss Battle 9: Naruto, Sakura, and Sai vs Sasuke (Team 7 Reunites)
Boss Battle 10: Sasuke vs Itachi (Fate of the Uchiha)
Boss Battle 11: Jiraiya vs Pain (Sensei vs Student)
Boss Battle 12: Sasuke vs Killer B (Capture the Eight Tails)
Boss Battle 13: Naruto vs Pain (Avenge Pervy Sage)
Boss Battle 14: Naruto vs Kyuubi (Master the Power of The 9 Tails!)
Boss Battle 15: Guy vs Kisame (Our Final Meeting!)
Boss Battle 16: Konan vs Tobi (Avenge Nagato and Yahiko)
Boss Battle 17: Yamato vs Tobi (An Attempt at Killing the Leader)
Boss Battle 18: Naruto, Sasuke, Sai, Sakura, and Kakashi vs Madara (The Final Battle!)
Ad blocker interference detected!
Wikia is a free-to-use site that makes money from advertising. We have a modified experience for viewers using ad blockers

Wikia is not accessible if you've made further modifications. Remove the custom ad blocker rule(s) and the page will load as expected.