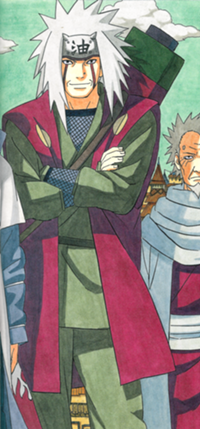 "I give all credit of this article to the Naruto Wiki"
Jiraiya (自来也, Jiraiya) was one of the legendary Sannin of Konohagakure, along with Tsunade and Orochimaru, who were trained by the Third Hokage. He was a powerful shinobi and the self-proclaimed super-pervert (although, at least in the manga, he meant it as a joke), and the writer of the popular adult fiction book series, called Icha Icha. He was also known as the Toad Sage (蝦蟇仙人, Gama Sennin), because of his signature toad summonings and his status as a sage, who was prophesied to be destined to teach the Child of the Prophecy who would either bring peace to the world, or destroy it entirely.
Ad blocker interference detected!
Wikia is a free-to-use site that makes money from advertising. We have a modified experience for viewers using ad blockers

Wikia is not accessible if you've made further modifications. Remove the custom ad blocker rule(s) and the page will load as expected.