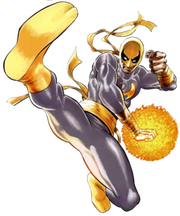 &nbsp

Daniel Rand was the son of businessman Wendell Rand, who had once lived in the fabled city of K'un Lun, which exists in an other dimensional realm. Wendell Rand-K'ai, as he was known there was the eldest son and heir of Lord Tuan, who ruled K'un-Lun, in the guise of the August Personage in Jade. However, Wendell was driven from K'un-Lun by his brother, who not only wanted to rule K'un-Lun himself, but who was Wendell's rival for the love of a woman named Shakirah. It was Wendell that Shakirah chose, and she bore him a daughter, Miranda. Wendell found refuge on Earth and became a successful businessman in the United States. In his absence, Tuan died and Wendell's brother succeeded him as Yu-Ti, the August Personage in Jade. Wendell married a woman named Heather, who bore him a son, Daniel.
Ad blocker interference detected!
Wikia is a free-to-use site that makes money from advertising. We have a modified experience for viewers using ad blockers

Wikia is not accessible if you've made further modifications. Remove the custom ad blocker rule(s) and the page will load as expected.