Herku is the fusion of Hercule and Goku by Fusion Dance. He has fought Buu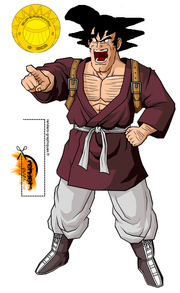 and Frieza. He won the fights and has gotten a metal. He has gotten lots of metals and his top metal is the True Warrior Metal. He is also playable in the Dragon Ball Z Budokai series.
Languages
Edit
Herku wa, fūjon dansuerukyūru to Gokū no yūgōdearu. Kare wa bū to furīza o fightedta, kare wa tatakai ni katta, kinzoku o tadotte iru. Kare wa kinzoku no ōku o ete, kare no ichiban-jō no kinzoku wa shin no senshi metarudesu. Kare wa mata, doragonbōru Z budō-kai shirīzu de saisei sa reru.
Herku ist die Verschmelzung von Hercule und Goku durch Fusion Dance. Er hat Buu und Frieza kämpfte, gewann er den Kampf und ist mittlerweile ein Metall. Er hat viel von Metallen bekommen und seine Top-Metall ist die True Warrior Metal. Er wird auch in der Dragon Ball Z Budokai-Serie spielbar.
Herku es la fusión de Goku y Hercule por Dance Fusion. Ha fighted Buu y Frieza, Él ganó la pelea y ha conseguido un metal. Ha llegado un montón de metales y su metal es el más alto del metal verdadero guerrero. También se puede jugar en la serie Dragón Ball Z Budokai.
Herku jefuzija Herkul i Goku od Fusion Dance . On je fighted buu i Frieza , dobio je bitku i da je dobio metal. On je stečen mnogo metala i njegov glavni metal jepravi ratnik metala . On je takođe pušten u Dragon Ball Z Budokai serije.