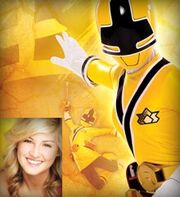 Emily is a sweet, innocent country girl who was never supposed to be a Power Ranger. It was her sister Serena who was destined for the squad, but an illness forced Emily to take her place. Although she is a bit of a fish out of water, the passion of the team and the bustle of the city inspires Emily to train hard and make her sister proud.
Ad blocker interference detected!
Wikia is a free-to-use site that makes money from advertising. We have a modified experience for viewers using ad blockers

Wikia is not accessible if you've made further modifications. Remove the custom ad blocker rule(s) and the page will load as expected.