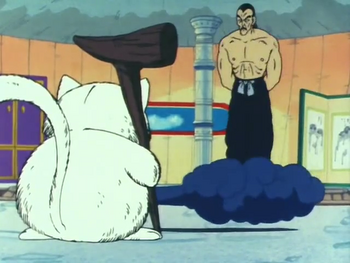 The Dark Nimbus is a magical cloud that appears in Dragon Ball as an alternate version of the more widely known Flying Nimbus. Unlike the Flying Nimbus, the Dark Nimbus can carry people of an impure nature. Much like the Flying Nimbus, its primary function is a mode of transportation for one or more people. Presumably, it can also be used to carry cargo if the need arises. It looks exactly like the Flying Nimbus, but instead of gold, it is dark purple in color. Korin can also change the Dark Nimbus from a solid to pure gas in order to make its cargo or passenger(s) fall straight through, much like someone of impure nature attempting to ride the Flying Nimbus.
Ad blocker interference detected!
Wikia is a free-to-use site that makes money from advertising. We have a modified experience for viewers using ad blockers

Wikia is not accessible if you've made further modifications. Remove the custom ad blocker rule(s) and the page will load as expected.